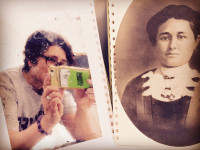 Amy Kaczur is a Boston based artist, producing video art for single, multi-channel, video projection and installation art.
Her work has been exhibited and screened nationally and internationally. Amy's passion and focus in art is directed toward subjects of social and political debate and change. Influenced by early feminist pioneers in video art and current video experimentation, her work is grounded in environmental concerns, food production, local economies & community, feminist theories, and language. The pleasures of inquisitive searching, a good adventure and a great story, gain momentum.
Amy grew up outside the Cleveland area in the Rust Belt, and her family roots impacted upon how she saw and appreciated landscape and environmental issues, both urban and rural. Familial ties worked in the food industry, manufacturing, dairy farming, feed mills, coal mines and paper mills in rural Southern Ohio down to the edges of Appalachia.
Lived in Boston/Cambridge and Los Angeles, Amy is a graduate of Tufts University and University of California, Irvine